A way of seeing: Sculptor Ramkinkar Baij's misunderstood art works
The method and madness to sculptor Ramkinkar Baij's misunderstood art.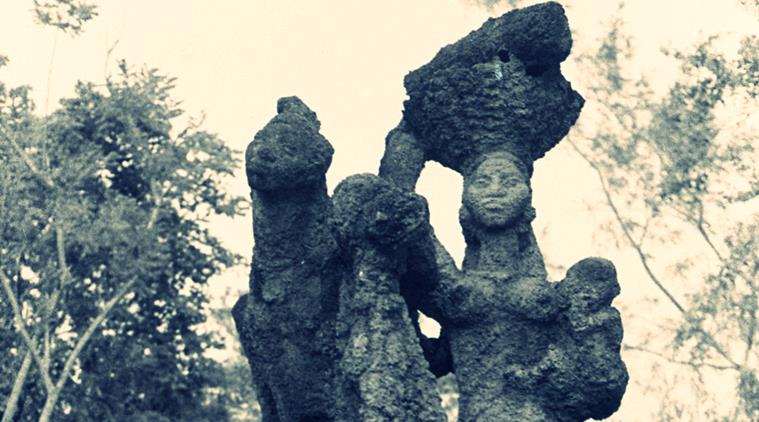 Mill Call, a 1956 sculpture by Baij. (Source: Jyoti Bhatt Image Courtesy: Asia Art Archive)


Artist A Ramachandran vividly recalls his first meeting with Ramkinkar Baij in 1957. A photograph of Baij's monumental work, Santhal Family — a mother, father, child and dog with their few possessions — had drawn him to Santiniketan. "When I arrived around 6 in the evening, Kinkarda (as Baij was fondly called) was sitting outside on a mooda, with a fan in his hand, dressed in a lungi. I asked him if I could show him my sketchbook. He turned some pages and threw it out of the window. He said I would have to start afresh. He was hard on me initially, breaking my sculptures and asking me to rework them. Eventually, I convinced him that I was sincere. After that, he treated me like a son," says Ramachandran, who was 22 then.
The now Delhi-based artist went on to work closely with Baij for eight years in Santiniketan. "Kinkarda was always exploring new ideas. He did not use still models but gave shape to sculptures by observing the inherent movement of people," he says. Baij was an unconventional teacher — singing Rabindrasangeet and Bhatiali folk songs with his students, and taking them for long walks to sketch the Santhals near Santiniketan.
That is also the Baij we are introduced to in Ritwik Ghatak's incomplete 1975 documentary on the master. On being asked by the filmmaker to explain his Buffalo and Fish, a statue of two buffaloes in a pond, Baij said that he had imagined the tail of a buffalo enlarged several times over to capture the movement of a fish in water. At that point, Ghatak commented, "You are a crazy person, there's no doubt about that." To which, Baij simply smiled.
Mostly seen in cotton shirts and sporting a Chinese straw hat, Baij was far from a member of the cultural elite. He was known to be indifferent to fame or money. In a 2009 interview, quoted on Shodhganga, an online library of Indian dissertations, artist and teacher Dinkar Kaushik quoted Baij as saying: "I feel an inevitable impulse and it forces me to create. Does it matter whether the rich and elite class demands my art or not?"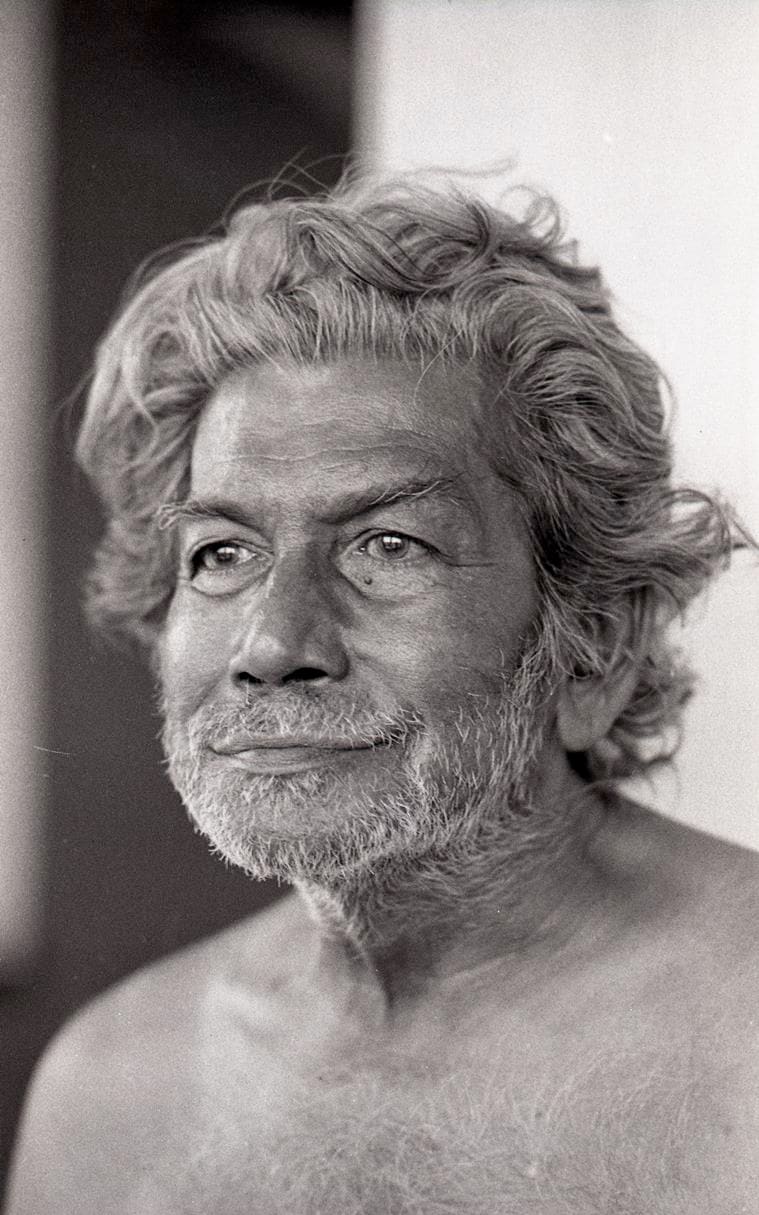 The master. (Source: Jyoti Bhatt Image Courtesy: Asia Art Archive)
Born in 1906 in Bankura district of West Bengal, Ramkinkar had three siblings, each of whom contributed to making ends meet. Baij chose art. While his initial lessons came from observing local idol-makers, he was also inspired by the terracotta sculptures of the Bishnupur temples. His political posters painted during the Non-Cooperation Movement in 1920 caught the attention of the editor of the Kolkata-based magazine, Modern Review, Ramananda Chattopadhyay. At his behest, Baij joined Rabindranath Tagore's Visva Bharati University as a student of fine arts.
Baij would go on to bring a sense of social commitment to the romanticism of Bengal art. An artist of the masses, he began as a traditionalist, but soon started experimenting with more Western approaches, including Cubism and abstraction. His protagonists, though, were rooted in India, in Santiniketan's khoai, and drawn from the Santhals, the original inhabitants of the land.
His statues of political leaders were infused with the same unconventionality. But it did not find favour with the authorities. In the early '80s, it was proposed that his bronze bust of Tagore in Balatonfured, Hungary, be replaced with another since it did not "look like" Tagore. The Yaksha and Yakshi in front of the Reserve Bank of India building in Delhi are the only two sculptures he did under official patronage. Ironically, the commission caused him a great distress . Unfamiliar with the ways of government assignments, Baij was unable to adhere to the deadline. He made a series of studies for the two figures, travelling from Kangra to Baijnath for material, and spent almost a decade completing it. When it was finished in 1966, the sculptures had exceeded the original cost estimate and deadline.
Baij had struggled with his identity during the initial years of his art practice. He used several names — some of his earliest works, reproduced in the journal Prabasi, carry the name Ramkinkar Pramanik. A work in the 1920s is undersigned Ramprasad Das. Not everyone appreciated his art even in Santiniketan, and it was Tagore, who, after seeing his first free-standing outdoor sculpture in concrete, Sujata (1935), said that he be allowed to sculpt as he wanted across the campus. His student KG Subramanyan once compared him to the khepa Bauls or the mad mystics; "an artist crazy with his art, lost so much in his search as to forget both his person and his product."
His works travelled the country and abroad — he represented India in 1950 at the Salon des Réalités Nouvelles in Paris. But Baij felt at home in Santiniketan. He died a man of meagre means in 1980, leaving behind a rich legacy of art. Perhaps, he would have smiled when his sculpture of Gandhi in Assam was described as "distorted". Art, for him, was meant to represent, not replicate.
Written by Vandana Kalra | Published:August 27, 2017 12:00 am