Auction Wars: Christie's, Sotheby's, and The Art of Competition
The two houses will do almost anything to outmaneuver each other, and the friction between them will likely only increase under new CEOs.
by Stephanie Baker and Katya Kazakina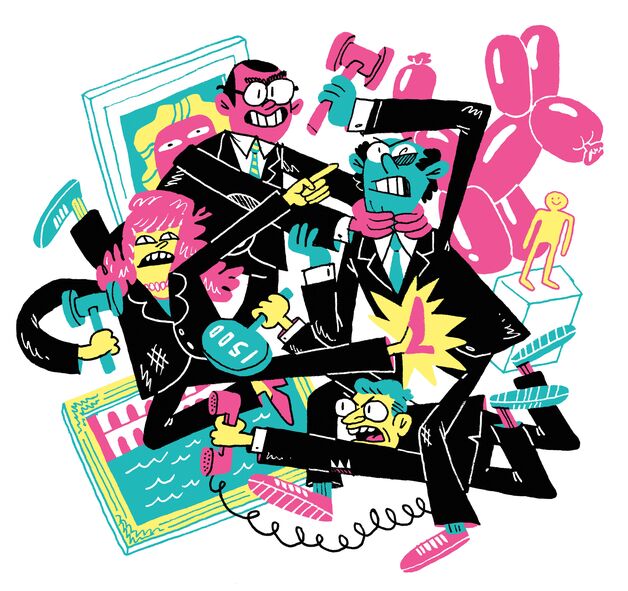 Illustration: Greg Kletsel/Bloomberg Markets
This May, after billionaires had outbid billionaires in New York's contemporary art auctions, something became immediately clear: Christie's had just clobbered Sotheby's with a gavel.
Over four days, Christie's sales totaled $1.7 billion, its biggest week ever. On one of those evenings, frantic bidding inside its Rockefeller Center salesroom enabled the auction house to sell $706 million of art spanning the 20th century in less than two hours. An anonymous bidder even plunked down $179.4 million for Pablo Picasso's Les Femmes d'Alger, smashing the record for the most expensive work ever sold at auction. "We're in a fantasyland," proclaimed collector Michael Ovitz, the former president of Walt Disney Co., as he left the room.
In contrast, Sotheby's moved just $890 million of art in two weeks—a little more than half of Christie's tally—underscoring just how far it had fallen behind its nemesis.
Together, Sotheby's and Christie's control 42 percent of the world's art auction market. The storied houses—both of which recently named new CEOs (more on that in a moment)—have one of the longest-running rivalries in business history going back to when they were established in London in the 18th century.
And there's even been some good scandal. In the 1990s, the U.S. Justice Department charged the two houses with colluding to fix sales commissions. They eventually paid a total of $512 million to settle claims by buyers and sellers that they'd been cheated, and Sotheby's chairman at the time, A. Alfred Taubman, spent 10 months in jail.
The competition has become cutthroat: There's simply never been so much money at stake. Sales of art worldwide surged last year to an all-time high of €51 billion ($57 billion), according to the European Fine Art Foundation. Both auction houses also saw record sales—$7.9 billion for Christie's (privately owned by French billionaire François Pinault) and $6.7 billion for Sotheby's. Because Sotheby's is publicly owned, however, its missteps are harder to hide. Profit fell 9 percent to $117.8 million because of increased expenses.
Sotheby's has also endured a bruising proxy battle led by hedge fund manager Daniel Loeb of Third Point, who accused the company of being "asleep at the switch" and falling behind Christie's in Asia and online. "Sotheby's is like an old master painting in desperate need of restoration," Loeb fumed in a 2013 letter to then-CEO William Ruprecht.
For all Loeb's bluster, he highlighted one of the biggest problems facing New York–based Sotheby's and London-based Christie's. In the hunt to capture market share, the auction houses often tank their own commissions. "Sotheby's will think, 'If we don't do it, Christie's will,' and vice versa," says Philip Hoffman, a former Christie's executive who now runs the Fine Art Fund, an investment group in London.
It doesn't help that it's a seller's market, one where collectors play the houses off each other to earn the best deal. In 2013, when newsprint magnate Peter Brant decided to sell Jeff Koons's Balloon Dog (Orange), he shopped the 4-foot-high (1.2-meter-high) stainless steel sculpture to both, hoping the sale would fetch as much as $75 million, according to people familiar with the matter. Christie's made the winning pitch, they say, by offering to forgo most of its sales commission paid by the buyer. Yet expected bids from Qatar never materialized, and the piece went for $58.4 million. While that was the highest price ever for a living artist, people familiar say Christie's made no money after marketing and installation costs. (Christie's declined to comment.)
Similarly, Sotheby's has offered lofty guaranteed prices so that sellers don't decamp. Take its sale of Alberto Giacometti's 1950 painted-bronze sculpture Chariot, the prize of Sotheby's biggest-ever Impressionist and modern art sale in New York in November. The gavel went down after just a single $90 million bid from hedge fund billionaire Steven A. Cohen. The sale accounted for about a quarter of the auction house's total that night and was the most expensive work auctioned in 2014. But Sotheby's had guaranteed the seller, Greek shipping heir Alexander Goulandris, that the work would collect at least $103 million and had agreed to cover any shortfall. Even after the buyer's commission brought the final price to $101 million, Sotheby's still lost $2 million or more, depending on marketing costs, according to people close to the sale.
Loeb finally got his way when the board announced Ruprecht's departure in November. It installed Tad Smith, the former CEO of Madison Square Garden, in his place. Admitting he knows little about art, Smith, 50, says he's focused on building the Sotheby's brand, expanding the house in Asia, and boosting its Internet business. He's also vowed to tread carefully with guarantees. "We will not roll dice in the auction room with shareholders' money," Smith told analysts on May 11. Since taking the helm in March, Smith—who sports salt-and-pepper hair and a Hollywood smile—has been meeting major clients, such as Ovitz; Don Marron, CEO of Lightyear Capital; and David Geffen, the billionaire entertainment executive, to determine how the auction house can improve its game.
With Smith's appointment, Sotheby's appears to be taking a page out of Christie's playbook. In 2010, Christie's also installed an art world outsider as CEO—Steven Murphy, former head of publishing company Rodale. Murphy invested $50 million into Christie's online auction platform and expanded its presence in Asia. Then, in December 2014, just two weeks after Ruprecht left Sotheby's, Christie's announced that Murphy would step down, giving no reason for his departure. Patricia Barbizet, a 60-year-old Frenchwoman who had been chairman of Christie's and a longtime Pinault adviser, assumed the role of CEO.
Art dealers and former auction house executives say Murphy left because he sacrificed profit for the sake of gaining market share through excessive use of guarantees. Murphy declined to comment. Barbizet, for her part, dismisses concerns about guarantees. "Our profit margin is good," she says via e-mail. "Guarantees are risk management and offer an assurance to the seller."
Ahead of the May sales in New York, Barbizet floated through the exhibition rooms at Christie's, Pinault at her side. She exuded the house of Pinault, wearing a necklace by Bottega Veneta (a Pinault brand) and a black-and-white striped jacket by New York designer Joseph Altuzarra (in whose company Pinault owns a stake). Barbizet has been a key figure in Pinault's empire since 1989, when she became chief financial officer of his holding company. Though Christie's technically falls under Groupe Artemis, where Pinault's son, François-Henri, is chairman, Barbizet says she talks to 78-year-old François every day. The two paused the longest in front of Giacometti's 1947 sculpture Pointing Man. Later, the work sold for $141 million, becoming the most valuable sculpture in the world—and trouncing Sotheby's disappointing Giacometti sale in November.
"It's a superaggressive, supercompetitive business," says Thomas Seydoux, founder of private art dealer Connery, Pissarro, Seydoux and a 15-year Christie's veteran. And in that sense, Christie's appears to have the edge.
This story appears in the July/August Rivalry Issue of Bloomberg Markets magazine.