Peabody rising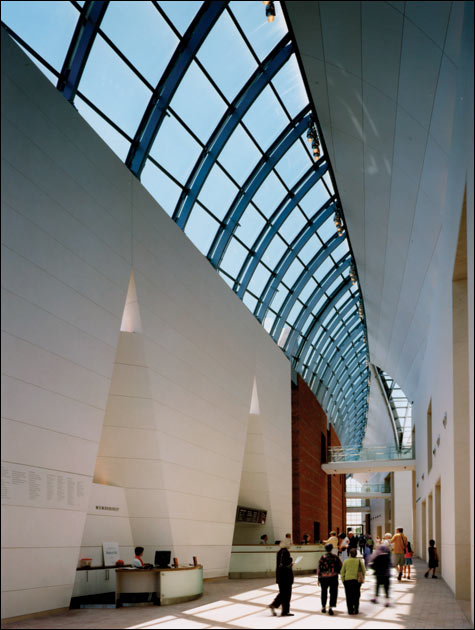 Bold leadership and an ambitious curatorial vision have vaulted the Peabody Essex Museum into a spot among the country's best
Could the Peabody Essex Museum be the Boston area's most exciting art museum right now? It's a question nobody would have asked five or 10 years ago. But a string of excellent shows — in particular this past summer's landmark Joseph Cornell retrospective, but also the current "Wedded Bliss" — has placed the Salem museum squarely in the same league as the Museum of Fine Arts, the Institute of Contemporary Art, and other top-rank museums around the country.The transition, which Boston is only beginning to recognize, has been some 15 years in the making, including a merger, a building expansion, more exhibitions, and increasingly ambitious shows. The Cornell show, Peabody Essex chief curator Lynda Roscoe Hartigan told me this past December, "really is about signaling, in as direct a way as we could think of, that we mean business about doing work in the modern- and contemporary-art arena."
It's a striking transformation. The Peabody Essex evolved out of the East India Marine Society, founded in 1799 as a repository for cool stuff brought back by Salem's China trade. In 1992, it merged with its neighbor, the Essex Institute, a locally focused antiquarian society dating back to 1821.
The new Peabody Essex Museum was the sole-surviving Enlightenment-era cabinet-of-wonders museum from the early American republic, but it felt dark, dusty, and stodgy. When Dan Monroe arrived from Oregon's Portland Museum of Art to become director in 1993, it was a backward-looking, colonial institution concentrating on New England, Native American life, natural history, and the cultures Salem touched via the China trade.
Between 1996 and 2003, Monroe tripled the museum's operating budget, and led a capital campaign to renovate and expand the museum, which culminated in the opening of a new Moshe Safdie–designed facility in 2003. It offered new galleries, a soaring glass atrium, and a 200-year-old merchant's house that was shipped from China and reassembled on the museum campus.
Signs of a new curatorial vision could be detected in such exhibits as a 1997 show that mixed works by contemporary Native Americans with historical Native works from the museum's collection. Barbara O'Brien, director of Simmons College's Trustman Art Gallery, says a turning point came with the renovated museum's 2003 opening exhibit, "Family Ties: International Contemporary Artists Interpret Family." In it, freelance curator Trevor Fairbrother — a former contemporary-art curator at Boston's MFA — assembled a "provocative" and "subtly conceived" (according to The New York Times) but accessible theme show of contemporary art by Andy Warhol, Nan Goldin, Kerry James Marshal, Zhang Huan, and others.
"What he created was a model," says O'Brien. "He both expanded the potential audience, but maintained the connection to scholarship and research. I think that's the show that rebranded the museum."
The year 2003 also saw the arrival of Hartigan — an expert on, among other things, Cornell and folk art. She and Monroe brought in new staff and reenergized veterans, giving them the backing and encouragement to take risks and soar. They've pulled off a marvelous pivot, turning a collection of colonial trophies (world-class collections of Japanese, Chinese, Korean, Oceanic, and Native American art, plus American costumes, fine, folk, decorative, and maritime art) into the foundation of a deeply engaged, internationally attuned, progressive contemporary museum.

Serious populism
The museum has also capitalized on good timing — international art, folk and aboriginal art, and vintage and vernacular photos (another strength) are all the rage in the art world. Out of this comes a distinctive institutional personality — a scholarly but often playful mix of old and new, Yankee and international, fine, folk, and decorative art — that throws out traditional aesthetic hierarchies. This perspective helps the contemporary international art presented by the Peabody Essex feel more culturally grounded than new foreign art seen elsewhere, which often falls into an Esperanto style common among artists jet-setting between arts fairs and museum biennials.
The result has been a run of terrific major exhibits. Fairbrother guest-curated "Painting Summer in New England" in 2006, an eye-candy survey of summery scenes by a who's-who of 20th-century artists. Hartigan organized this past summer's Cornell retrospective, which, after having moved to the Bay Area, the San Francisco Chronicle called one of that area's 10 best shows of 2007. It is likely the last word on Cornell for the next two decades. The same can be said of this past winter's "Samuel McIntire, Carving an American Style," a survey of carving and architecture by the 18th-century Salem artist, who — though less well-known than Cornell — was a major early American talent. It was organized by the museum's American decorative art curator, Dean Lahikainen.
Exhibitions increased from three in 2001–'02 to seven in 2004, 2005, and 2006, and then to 10 this past year. Attendance grew from 116,000 in its last year in the old building to between 186,000 (2007) and 247,000 (2006; the museum attributes this peak to the popularity of "Painting Summer").
"Other institutions have not figured out how to be populist and serious," says O'Brien. "And I think the Peabody Essex has."
So how does the Peabody Essex rank among its peers? The scope and scale of its special exhibits place it above Harvard, Brandeis's Rose Art Museum, and the RISD Museum. And the Peabody Essex is easily on a par with the ICA. It hasn't matched the ICA's strength: mid-career surveys of living artists, such as Anish Kapoor and Philip-Lorca diCorcia. Nor does it offer the ICA's vigorous and notable performance schedule. But the Peabody Essex's major solo surveys are the definitive exhibitions on the artist for a generation, while the ICA and MFA's (see Edward Hopper and "David Hockney Portraits") ain't.
The Peabody Essex's theme shows are more rich, substantive, surprising, and fun than what the ICA and MFA have lately accomplished. Its exhibit design has surpassed the ICA and rivals the MFA. "Samuel McIntire" offered dramatic theatrical installations of architectural details and interactive components that had visitors guess which pieces were by McIntire and which were knockoffs.
"Design is a very emotional kind of thing," says Hartigan. "Emotion is very important as a means for people to learn."
Still, the Peabody Essex can't compete with the MFA's strong suit: old European masterwork surveys such as "El Greco to Velazquez: Art During the Reign of Philip III" or "Symbols of Power: Napoleon and the Art of the Empire Style." The MFA's small and mid-size shows, particularly its historical surveys, also tend to be sharper (when they're not kissing collectors' asses) than what the Peabody Essex mounts — the cloyingly quirky group show "Polar Attractions" or the slick, shallow photos in "Body Politics: Maori Tattoo Today," for example.
New curators could change that. Phillip Prodger, the museum's first full-time photo curator, began work in June. The museum's first contemporary art curator could be announced as soon as next week, and be on board by September.
November brings a survey of paintings of polar vistas by Frederic Edwin Church, William Bradford, and Rockwell Kent. Exhibitions in 2010 will look at the Mayan relationship to the sea and bring rarely seen Chinese imperial jades, murals, and architectural pieces from 18th-century emperor Qianlong's Garden of Longevity and Tranquility in Beijing's Forbidden City. "Most Chinese people don't even know about this [garden]," says Hartigan, "because it's not the kind of thing people have access to."
It may represent another major coup for the museum (and a testament to the skill and connections of its Chinese art curator, Nancy Berliner). It's the kind of impressive move that the Peabody Essex is turning into a habit.

To read Greg Cook's blog, The New England Journal of Aesthetic Research, go to gregcookland.com/journal.